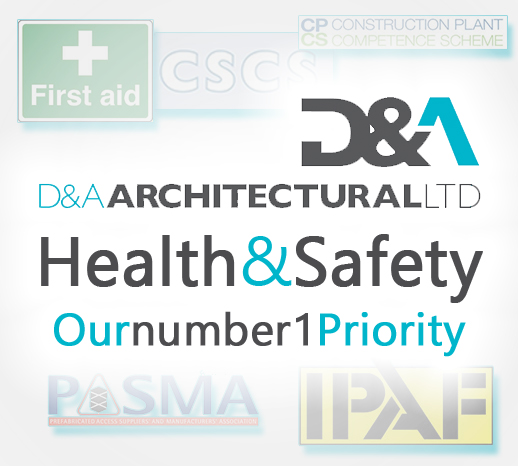 Health and Safety
As the #1 priority at all times, D&A Architectural Ltd has contracted 4See Risk Management Ltd for competent health, safety and environmental support covered in the Health and Safety Policy Statement. We carry insurances covering Public Liability £10,000,000 (for any one incident and unlimited to numbers) and Employee Liability £10,000,000, with no working height restrictions. For a copy of our H&S Policy please contact us.

Training & Accreditation
D&A has safety trained Management and Supervision with SMSTS or SSSTS certification. Operatives trained in the use of MEWPS (Scissor Lifts, Cherry Pickers), Mast Climbers, Cradles, Vacuum Lifting Devices, Aluminium towers, Shot-fire fixing systems, Crane Drivers (CPCS), Banksman, Appointed Person, First Aid and Fire Marshall. D&A has also invested in training for open edge works associated with unitised system installation and have personnel trained in Leading Edge works, and abseil operatives IRATA 1 and IRATA 3 (supervision). All operatives have completed CSCS training, and many are NVQ accredited to level 2.